Posts Tagged 'Charles F. O'Neill'
On Wednesday morning the United State cruiser San Diego will be formally rechristened in San Diego's harbor . . . No city on the California coast has been so signally honored by the government, and the fact that a modern war vessel with its hundreds of men will carry the name of San Diego to all parts of the United States and the world is worthy of a celebration.
–San Diego Union, September 14, 1914.
The story of the USS San Diego, the city's famed battle cruiser of World War I: USS San Diego.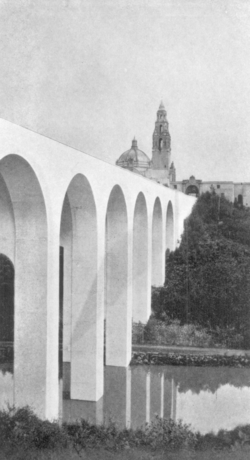 Construction of the bridge began in December 1912 under the supervision of Frank P. Allen, Jr., the exposition's Director of Works, using the designs of Thomas B. Hunter, a San Francisco engineer. Built for a cost of $225,154, the bridge was an innovative multiple-arched, cantilever structure and the first such bridge in California.
Read the history of this remarkable landmark, the Cabrillo Bridge.