On July 22, I'll be at the San Carlos branch of the San Diego Public Library. Here's some info from the San Carlos Friends of the Library:
Friday, July 22, 2:00-3:00 pm: Richard Crawford will speak on "San Diego Yesterday."
Rick is the Manager of Special Collections at the San Diego Public Library. He is the former Archives Director at the San Diego Historical Society, where he also edited the Journal of San Diego History for nine years. He has degrees in history (San Diego State University) and library science (San Jose State University). As a historian and archivist, he has written extensively on local history, including the books Stranger Than Fiction: Vignettes of San Diego History, The Way We Were in San Diego, and most recently San Diego Yesterday.
San Carlos Library
7265 Jackson Dr.
San Diego CA 92119
(619) 527-3430
Need a quick idea for Dad? Here's an easy suggestion for any history-loving San Diegan.  The books are available at Amazon and in local bookstores. Each book has 38 stories originally published in the San Diego Union-Tribune. Topics include San Diego people, military, schools, water, sports, crime, scandal, and more–all illustrated with historic photographs.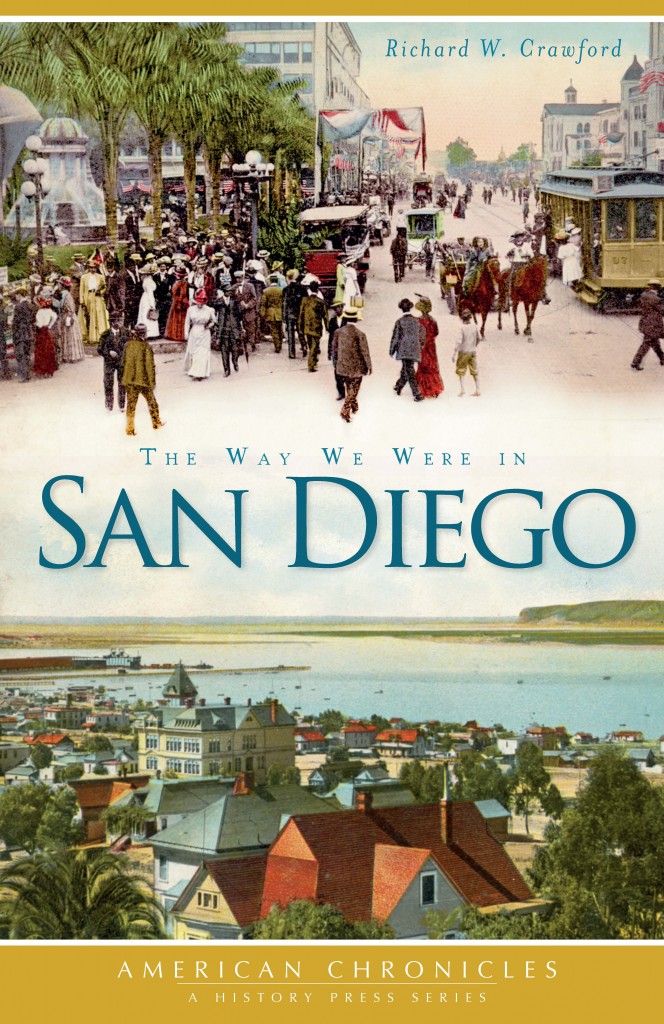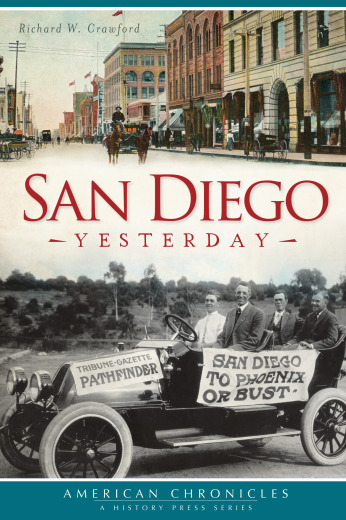 Saturday morning, June 4, I'll be at the Costco in Poway from 11:00 to 1:00 to sign copies of San Diego Yesterday. Come see the book. A great gift for Father's Day!
12155 Tech Center Dr, Poway, CA 92064
(858) 848-2450
Awarded "Best Published Local Interest" for 2013 by the San Diego Book Awards Association.
"Crawford masterfully sheds light on San Diego's past in concise, digestible, yet information-laden narratives." –Matthew Schiff, Journal of San Diego History
Please join us for a discussion with local author and historian, Rick Crawford, as he presents stories from his 2013 book, San Diego Yesterday.
Extra copies of the book are available to borrow from the Skyline Hills library, or libraries through the area. Please join us for an inside peek into San Diego's colorful history!
Wed, Mar 9, 6:00 PM – 7:00 PM
Skyline Hills Library
480 S. Meadowbrook Dr.
San Diego CA 92114
(619) 527-3485
Gambling ships were quite the vogue in the 1930s. Anchored three miles off the San Diego coast, ships like the Reno or Monte Carlo frustrated law enforcement but delighted the sporting crowd. Click below for a story I wrote many years ago about the ill-fated Monte Carlo, the wreck of which can usually be seen each winter at low tide in front of the Hotel del Coronado. This was originally published in Stranger Than Fiction: Vignettes of San Diego History (San Diego Historical Society, 1995).
Jubilation greeted the opening of the Sweetwater Dam in the spring of 1888. On the heels of the great land "boom of the eighties," National City and the south bay reveled in the completion of an engineering marvel—the tallest masonry arch dam in the United States, which created San Diego County's first large reservoir of water–an essential key to the region's growth and prosperity.
The story of Building the Sweetwater Dam.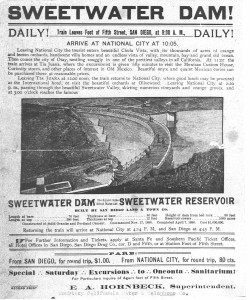 Kelp–best known as the flyblown brown seaweed that fouls beaches and tangles the legs of ocean swimmers—is actually one of San Diego's great natural products. In the early 1900s, the processing of ocean kelp by the Hercules Powder Company in a huge plant in Chula Vista employed hundreds of people and helped win a war. The story of Hercules Powder.
To look at it now, solidly in place, you would never know its disturbed history. The broken course of the Sutherland project is one of those fantastic things that could only happen here.  –Shelley Higgins, former City Attorney, in This Fantastic City.
The story of the ill-starred Sutherland Dam, known in its day as  A Dam Fiasco.
We arrived at San Diego very tired at ½ past 7. Did not know where to go or what to do. It was dark. A serious time. At length, Walter, Keane, and self were taken in at the Dragoon Quarters and the rest got a tent. Our supper was coffee and crumbs of biscuit.  –H.M.T. Powell, December 3, 1849
The diary of a tired traveler from Illinois provides a rare, colorful account of early San Diego. Of an estimated 80,000 gold-seekers who found their way to California in 1849, relatively few stopped in San Diego. Fewer still left recorded narratives of their time here. The journal of H.M.T. Powell, published in 1931 as The Santa Fe Trail to California, 1849-1852, is considered by historians to be one of the most important accounts of the Gold Rush era.
An eyewitness view of Old Town San Diego in 1849: H.M.T. Powell and San Diego
San Diego is now the automobile racing capital of America. For the brief space of one week the Southern California exposition city is to revel in all the glory of the speed game. Next Saturday America's foremost drivers are to risk their lives . . . in one of the most unique motor races ever staged on the Pacific Coast.  –Los Angeles Times, Jan. 3, 1915
The story of the 1915 Exposition Road Race.