Christmas day every day in San Diego. Toys every day for children to whom the real Christmas has never meant a thing. That is the purpose of San Diego toy loan libraries. –San Diego Union, August 13, 1939.
A federal government success story: toy libraries for children during the Great Depression.         The Toy Loan Libraries.
For all you fans of America's sometimes finest city here's a couple good reads on our fascinating history. The books are available at Amazon and in bookstores (Costco, Barnes and Noble. . .)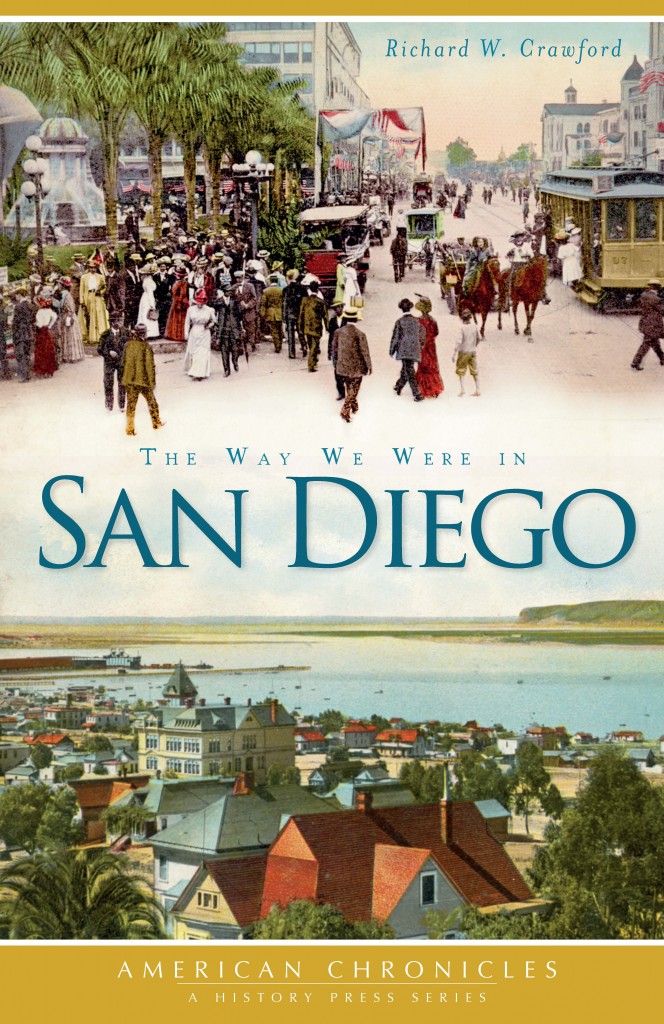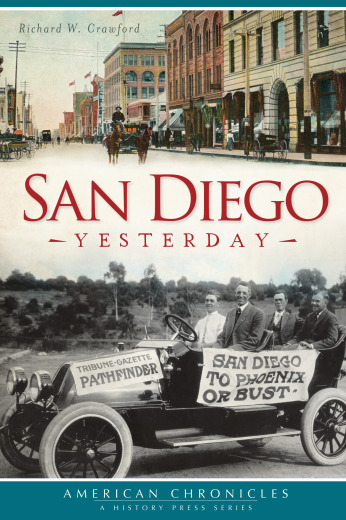 In 1872, the dour secretary of San Diego founder Alonzo Horton would complain in his diary: Thanksgiving Day has not been very well observed. Too tired to work and too forgetful of comforts enjoyed . . . May our ingratitude be forgiven.  –Jesse Aland Shepherd.
But in future years San Diegans would invest a bit more in the national holiday: Thanksgiving in Early San Diego.
It was a crime that incensed San Diegans: the "murder" of a young sailor from a US. warship by a deputized marshal. For one summer and fall, San Diegans would eagerly follow the case of a "posse" gone wild and accused of brutalizing American sailors.
The story of a riot in the Stingaree and The People versus Breedlove.
The Ocean Beach Historical Society Presents: San Diego Yesterday Featuring Richard Crawford, Thurs., Oct. 17th at 7PM at P.L. United Methodist Church, 1984 Sunset Cliffs Blvd., Ocean Beach.
San Diego today is a vibrant and bustling coastal city, but it wasn't always so. The city's transformation from a rough-hewn border town and frontier port to a vital military center was marked by growing pains and political clashes. Civic highs and criminal lows have defined San Diego's rise through the 19th and 20th centuries into a preeminent Sun Belt city. Historian Crawford recalls significant events and one-of-a-kind characters that laid the foundation for the San Diego that we know today. Richard Crawford is the Supervisor of Special Collections at the San Diego Public Library. He is the former archives director at the San Diego Historical Society, where he also edited the Journal of San Diego History.
Please join us Oct. 17th, this event is FREE.
On Wednesday evening at 6:30, I'll be at the Clairemont Library for pictures and discussion about San Diego Yesterday. The library is at 2920 Burgener Blvd.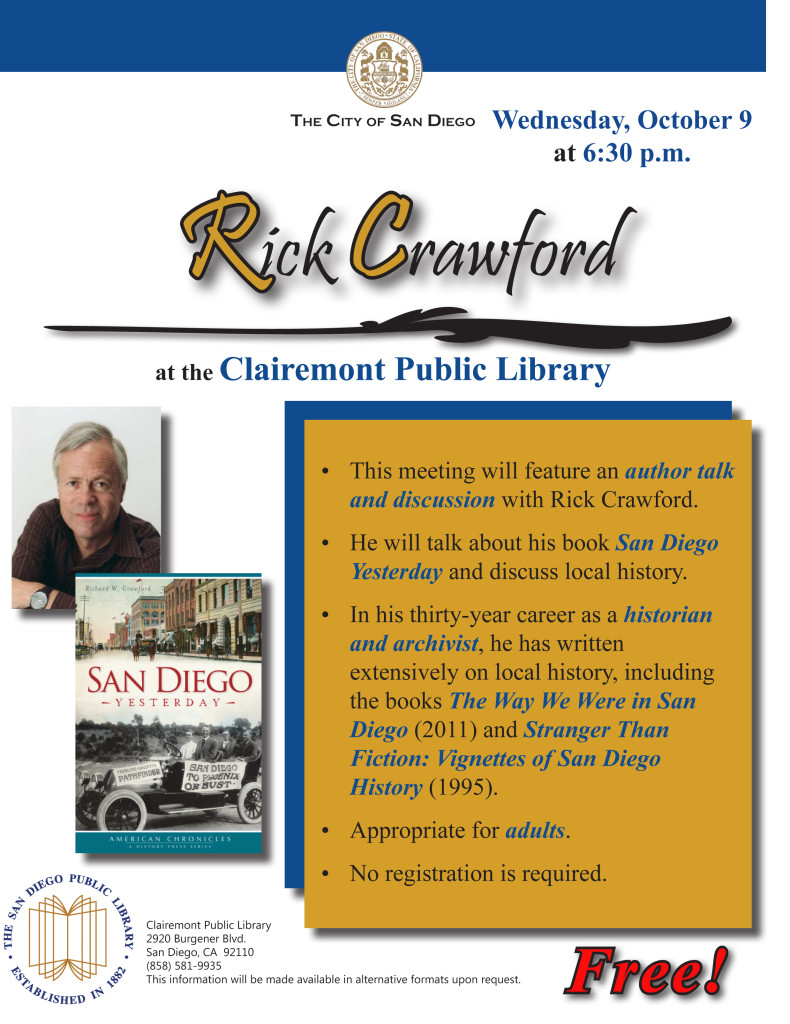 Mark you calendars for Wednesday night, Oct. 9, at 6:30 p.m.  I'll be at the Clairemont Library for a talk and discussion about San Diego Yesterday. Lots of great stories and historical photographs to share. The library is at 2920 Burgener Blvd., San Diego.
In Special Collections at the Public Library we come across lots of excellent photographs of early San Diego.  Many of unfamiliar.  How about the "Pipe Hospital" at 306 C Street in 1915?  Or the Grossmont Center Shopping Center when it was just a large excavation? And here's a nice shot of the submarine S-33 in San Diego harbor.
The story of Wyatt Earp continues to fascinate.  The best book I've seen on Earp's years in our city is Garner Palenske's Wyatt Earp in San Diego.  On Sunday afternoon, Sept. 15, Garner will be discussing his book at the William Heath Davis House in the heart of the Gaslamp.  Here's some details:
THE DATE IS SET- SUNDAY SEPTEMBER 15, 2013, 3:00-4:00 PM. FREE
LECTURE/BOOK SIGNING "WYATT EARP IN SAN DIEGO", GASLAMP QUARTER
HISTORICAL MUSEUM, AT THE WILLIAM HEATH DAVIS HOUSE, 410 ISLAND AVE.
SAN DIEGO, CA 92101.
THE EVENT WILL INCLUDE:
• DETAILS ABOUT WYATT'S TIME IN SAN DIEGO
• NEW RESEARCH YET TO BE PUBLISHED
• WYATT'S LOST MINING CLAIMS AT HARQUA HALA, AZ.
Gaslamp Quarter Historical Foundation
Did the Spanish explorer Francisco de Ulloa meet his demise near San Diego in 1540?  Did he leave behind a fortune in gold and silver, buried somewhere near San Luis Rey?
Last Friday I did an interview on the mystery with Edward Sifuentes, who writes for the North County edition of the UT.  Here's the uncut video: http://bcove.me/8p1x65zj  No preface or introduction, I'm afraid.  Just a chat with a reporter with the camera running.
This Saturday morning I'll be giving a talk on the treasure mystery at the Oceanside Public Library, at 11:00.