Books on San Diego History
Save the date. On December 3, I'll be at the North Park branch of the Public Library to share some great stories and photos from San Diego Yesterday. That's 6:30 p.m. at 3795 31st St.
San Diego (619) 533-3972.
Many thanks to the San Diego Book Awards Association, which held their 20th annual awards ceremony last night and gave San Diego Yesterday the prize for Local Interest.  My gratitude to the judges and this fine organization!
Best Published Local Interest
Richard W. Crawford
San Diego Yesterday
Next Friday I'll be at the Coronado Historical Society for an illustrated talk on San Diego history. That's Friday, Jan. 10, 5:30 pm in the Lecture Hall of CHS, 1100 Orange Ave., Coronado, CA 92118. Here's some more details from the CHA website.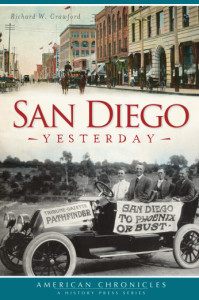 For all you fans of America's sometimes finest city here's a couple good reads on our fascinating history. The books are available at Amazon and in bookstores (Costco, Barnes and Noble. . .)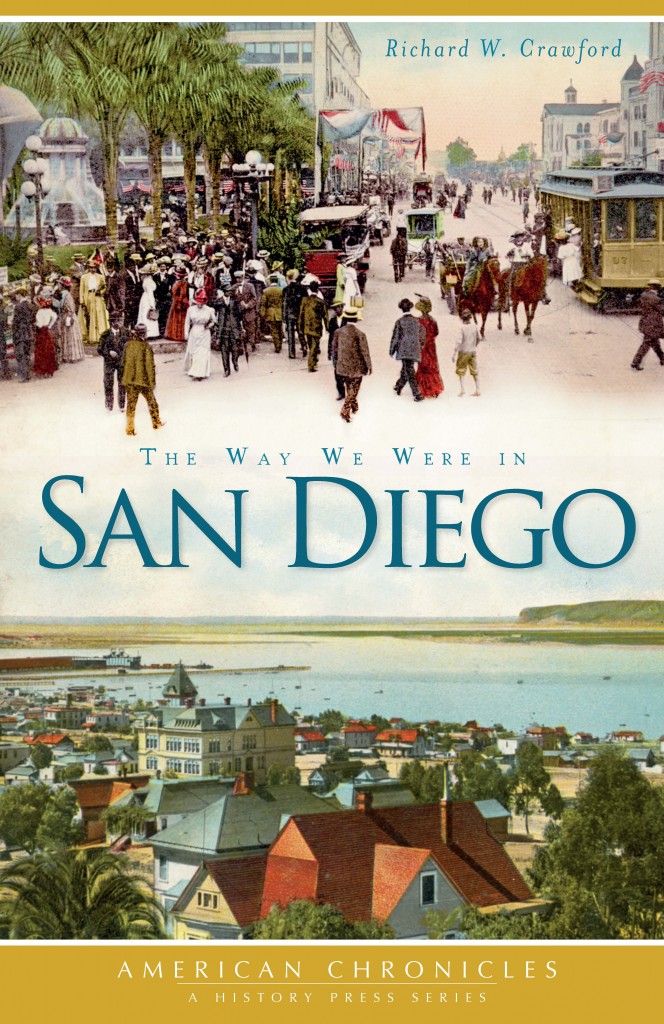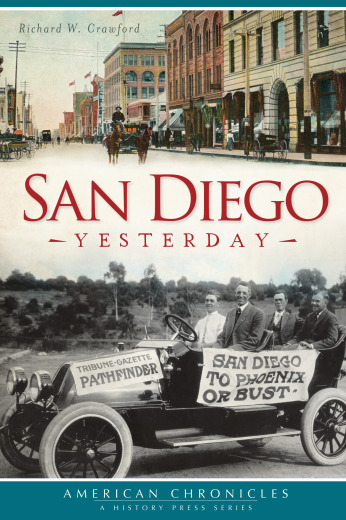 Mark you calendars for Wednesday night, Oct. 9, at 6:30 p.m.  I'll be at the Clairemont Library for a talk and discussion about San Diego Yesterday. Lots of great stories and historical photographs to share. The library is at 2920 Burgener Blvd., San Diego.
The story of Wyatt Earp continues to fascinate.  The best book I've seen on Earp's years in our city is Garner Palenske's Wyatt Earp in San Diego.  On Sunday afternoon, Sept. 15, Garner will be discussing his book at the William Heath Davis House in the heart of the Gaslamp.  Here's some details:
THE DATE IS SET- SUNDAY SEPTEMBER 15, 2013, 3:00-4:00 PM. FREE
LECTURE/BOOK SIGNING "WYATT EARP IN SAN DIEGO", GASLAMP QUARTER
HISTORICAL MUSEUM, AT THE WILLIAM HEATH DAVIS HOUSE, 410 ISLAND AVE.
SAN DIEGO, CA 92101.
THE EVENT WILL INCLUDE:
• DETAILS ABOUT WYATT'S TIME IN SAN DIEGO
• NEW RESEARCH YET TO BE PUBLISHED
• WYATT'S LOST MINING CLAIMS AT HARQUA HALA, AZ.
Gaslamp Quarter Historical Foundation
Save the date.  On Sunday, June 16 I'll be at the Santa Ysabel Store to talk and show San Diego Yesterday.
San Diego today is a vibrant and bustling coastal city, but it wasn't always so. The city's transformation from a rough-hewn border town and frontier port to a vital military center was marked by growing pains and political clashes. Civic highs and criminal lows have defined San Diego's rise through the nineteenth and twentieth centuries into a preeminent Sun Belt city. Historian Richard W. Crawford recalls the significant events and one-of-a-kind characters like benefactor Frank "Booze" Beyer, baseball hero Albert Spalding and novelist Scott O'Dell. Join Crawford for a collection that recounts how San Diego yesterday laid the foundation for the city's bright future.
The book is  available at Amazon and in bookstores starting today.
Releasing on May 28: San Diego Yesterday, a compilation of 38 pieces I once wrote for the Union-Trib.  Here's a sneak peek at the cover, and a description from the publisher: http://historypresswest.org/2013/05/02/new-from-american-chronicles-san-diego-yesterday/
The book is now available for pre-order at Amazon.