Historical Miscellany
In honor of National Library Week (April 13-19) here's a little San Diego library trivia:
One of the smaller branches of the San Diego Public Library was the Marston Store branch.  As "a convenience to tourists and shoppers," the room opened in 1917 on the 5th floor of the famed department store at 5th and C Streets.  The branch closed in 1921 and its collection was moved to the new Mission Hills branch.
Next Friday I'll be at the Coronado Historical Society for an illustrated talk on San Diego history. That's Friday, Jan. 10, 5:30 pm in the Lecture Hall of CHS, 1100 Orange Ave., Coronado, CA 92118. Here's some more details from the CHA website.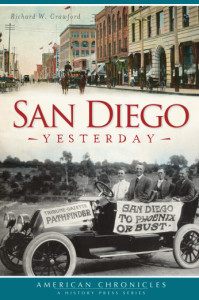 The Ocean Beach Historical Society Presents: San Diego Yesterday Featuring Richard Crawford, Thurs., Oct. 17th at 7PM at P.L. United Methodist Church, 1984 Sunset Cliffs Blvd., Ocean Beach.
San Diego today is a vibrant and bustling coastal city, but it wasn't always so. The city's transformation from a rough-hewn border town and frontier port to a vital military center was marked by growing pains and political clashes. Civic highs and criminal lows have defined San Diego's rise through the 19th and 20th centuries into a preeminent Sun Belt city. Historian Crawford recalls significant events and one-of-a-kind characters that laid the foundation for the San Diego that we know today. Richard Crawford is the Supervisor of Special Collections at the San Diego Public Library. He is the former archives director at the San Diego Historical Society, where he also edited the Journal of San Diego History.
Please join us Oct. 17th, this event is FREE.
On Wednesday evening at 6:30, I'll be at the Clairemont Library for pictures and discussion about San Diego Yesterday. The library is at 2920 Burgener Blvd.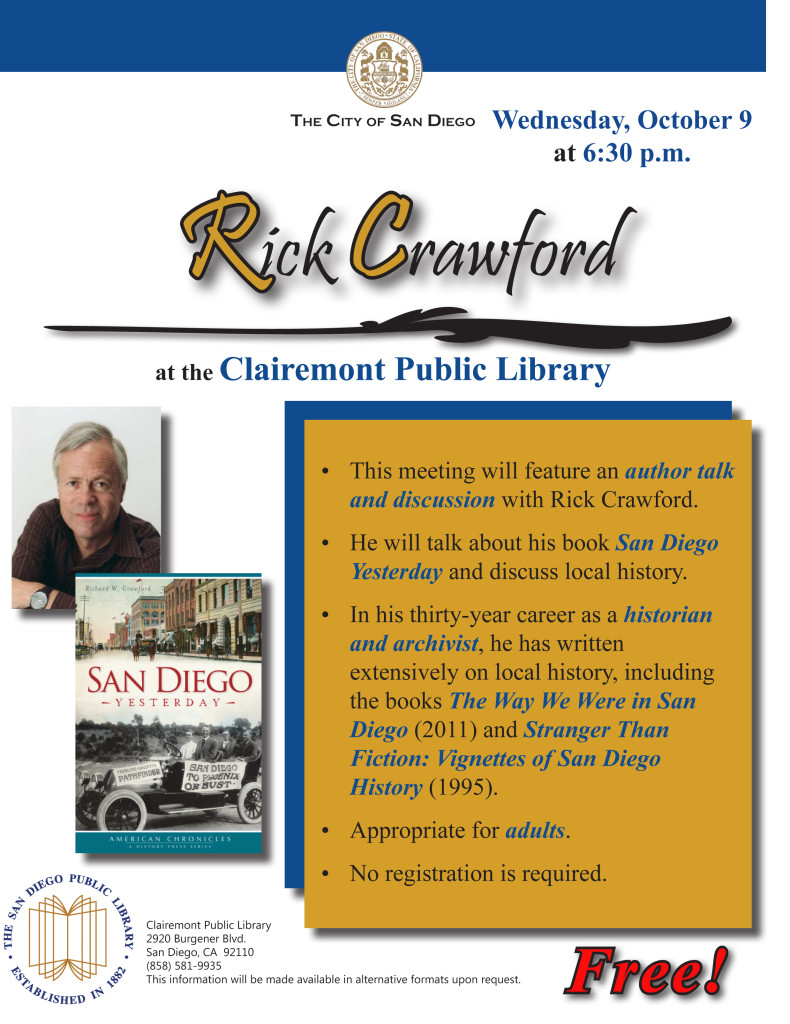 In Special Collections at the Public Library we come across lots of excellent photographs of early San Diego.  Many of unfamiliar.  How about the "Pipe Hospital" at 306 C Street in 1915?  Or the Grossmont Center Shopping Center when it was just a large excavation? And here's a nice shot of the submarine S-33 in San Diego harbor.
The big move to the new Central Library is underway.  Here's some footage of the action and a some brief  interviews.

Save the date.  On Sunday, June 16 I'll be at the Santa Ysabel Store to talk and show San Diego Yesterday.
Back in May 1991, San Diego Union reporter Roger Showley wrote a nice piece on local history books, which included a valuable list of favorite titles nominated by local historians (list attached here: Favorite Books).
That was 22 years ago. How about we update that list?  This doesn't have to be limited to professional historians.  Let's hear from students and history buffs, too.
What I'd like to know is simply:
a. What are your favorite San Diego history books (perhaps your top five?)
and
b. Why do you like these books?
You can leave a comment below or send me an email at r-crawford@cox.net. I'll give you all a couple of weeks then I'll post the results on this site.
In 1960, Long Beach entrepreneur Allen Parkinson (inventor of Sleep-Eze) had a clever idea to speed people across the international border at San Ysidro.  Partnering with Tijuana businessmen, Parkinson would build a mile-long aerial tramway to whisk passengers across the line in a Disneyland-style skyride.  Regrettably, the scheme fizzled, but not before architect Frank L. Hope  produced this fascinating rendering.
Chris Boyd's superb documentary on "The First Padres" is now available on DVD.  Check it out on this link: http://www.cdbaby.com/cd/thefirstpadres.  Chris includes great archival footage of the Lane Field days and interviews with players and local historians.  The film premiered on KPBS back on October 8.  It's well-worth owning.